UNIT VALUE 2020-10-27
18,132 €
Fund Type

Open-Ended Real Estate Investment
Fund

Inception Date

15-07-2005
Fund Name
CA Património Crescente
Minimum Recommended
Investment Period
3 Years
Currency
Euro (€)
ISIN
PTSQUBHM0002
Manager
Square Asset Management, Sociedade Gestora de Organismos de Investimento Coletivo, S.A.
Distributor
Caixa Central de Crédito Agrícola Mútuo through banking network, branches, and internet banking
Custodian
Caixa Central — Caixa Central de Crédito Agrícola Mútuo, C.R.L
For more information, Prospectus, Key Information for Investors, Management Regulation, Reports and Accounts,
please contact Square Asset Management, Sociedade Gestora de Organismos de Investimento Coletivo, S.A., Depositary Bank and CMVM's web site.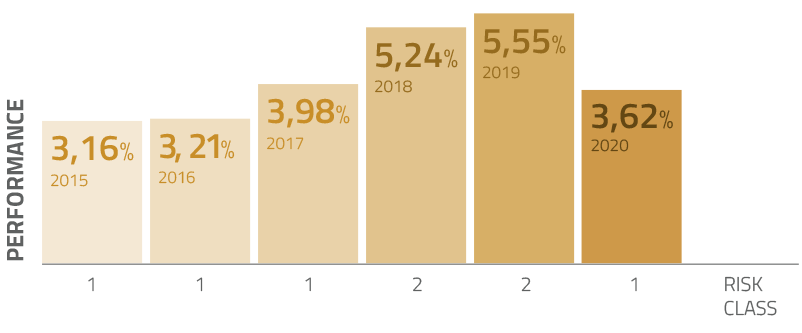 The value of the participation units held will vary according to the evolution of the value of the assets that constitute the fund. The information here provided should be complemented by reading the prospectus and all relevant e legal information of the fund that is available on this site and www.cmvm.pt. All performances disclosed represent past data and do not constitute a guarantee of future ones because the value of the units may increase or decrease. The risk level varies between 1 (low risk) and 7 (very high risk). Performances disclosed here are annualized, net of tax in the fund, management fees and depositary; are not net of subscription and redemption fees and should be consulted in the fund's legal documents. The returns presented that refer to periods greater than one year would only be obtained if the investment were made during the whole reference period. The applicable tax regime, the fund and participant, is provided in the full prospectus of the fund, available on this site and www.cmvm.pt.
Minimum Subscription Amount
50 Units
Following Subscriptions
No Minimum
Subscription Fee
0%
Redemption Fee
Between 365 and 1094 days: 1%;
More than 1095 days: 0%
For more information see prospectus
Management Fee
1% per year
Custodian Fee
0,25% per year
Performance Fee
10% of the difference between 12-month Euribor rate plus 2% and the fund performance.
The Prospectus, Key Information for Investors and Management Regulations are available at the places and means of commercialization and at www.cmvm.pt.
Evolution of Unit Value
Value